Geographical Position
and Climate
Geographical Position
Divčibare is tourist place on Maljen Mountain in West Serbia. It is a mountain plateau stretching from Crni Vrh, Paljba, Golubac, Kraljev Sto and Veliko Brdo. Divčibare is at an at altitude of 980 meters, and highest spot on Maljen Mountain is Kraljev Sto, at an altitude of 1104 meters. The wiew from this hills is incredible, you can see mountains: Medvednik, Povlen, Jelova Gora, Jablanik... When is clear visibility, you can see Kopaonik, Zlatibor, Zvezda, Tara, Golija and even great massive of Durmitor. All of these mountains are a part of the Dinarides mountain chain.
Climate
Divčibare has a mild and pleasant mountain climate. It is moderately continental, dry in summer and with heavy rainfall in winter. Divčibare has a favorable average annual temperature of 18 degrees Fahrenheit, with warmer autumn than spring.
JeThe average summer temperature does not exceed 22 degrees Fahrenheit. Septembar has only 5,4 rainy days. Divčibare has only 76 windy days per year and 126 days in a year with a snow or a rain. Winters abound with crystal snow for 4 months in year.
One of the major factors affecting Divčibare's air, making it an air spa, is the geographical location where the air masses from Carpathians and from The Pannonian Plain and those from the Mediterranean meet and this is the main explanation for the presence of iodine in the air. It has a particulary beneficial effect on people who have problems with bronchitis, asthma, anemia and disorders of the autonomic nervous system, as well as people suffering from allergies or other respiratory problems.
The climate that rules this area contributes to the overall condition of the body and enhances immunity, which is why many people call it "factory of a red blood cells".
Thanks to the rose of winds, Divčibare is a unique air spa in wich the human body recovers from cardiovascular, pulmonary and blood diseases, four times faster than usually.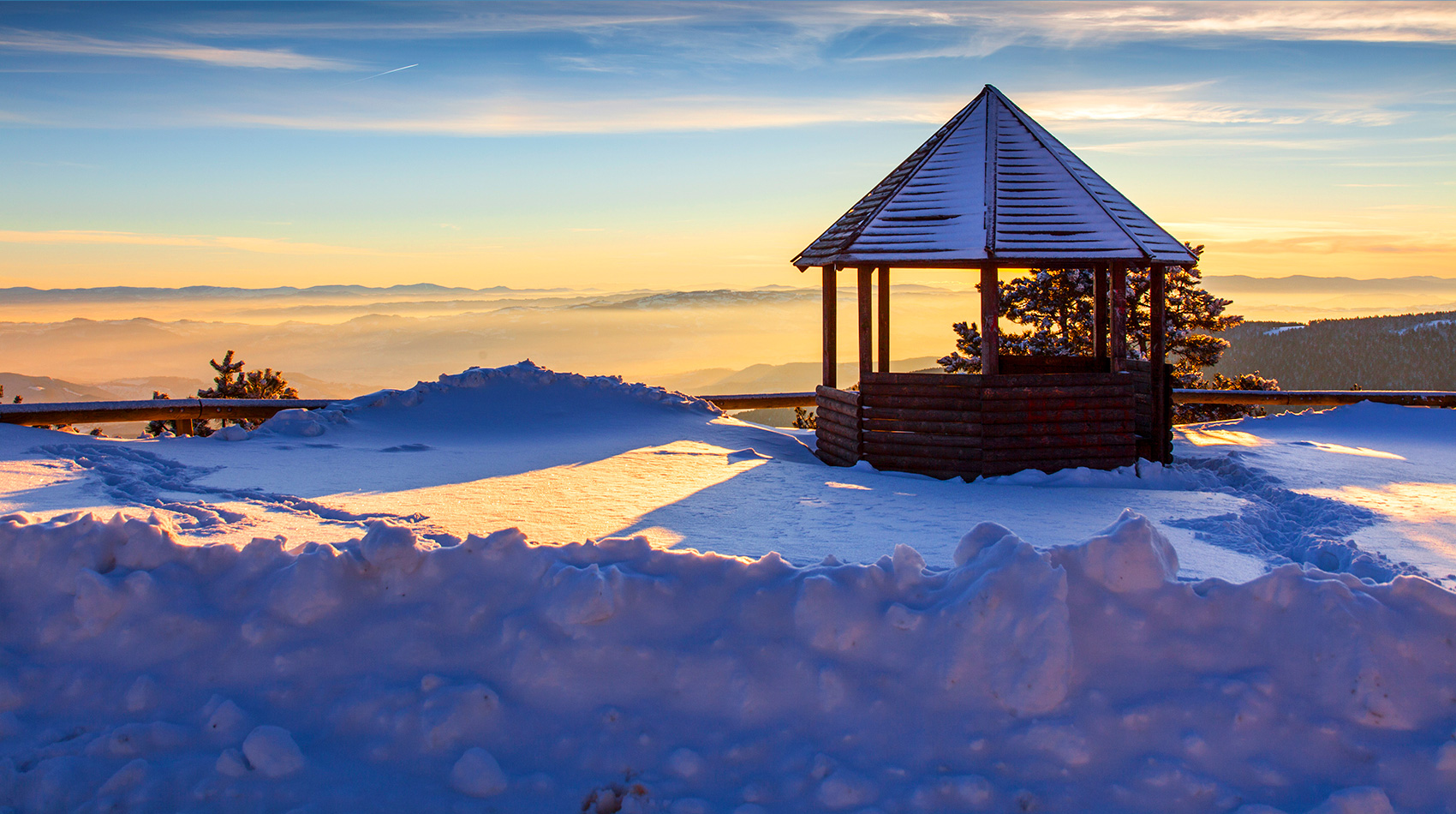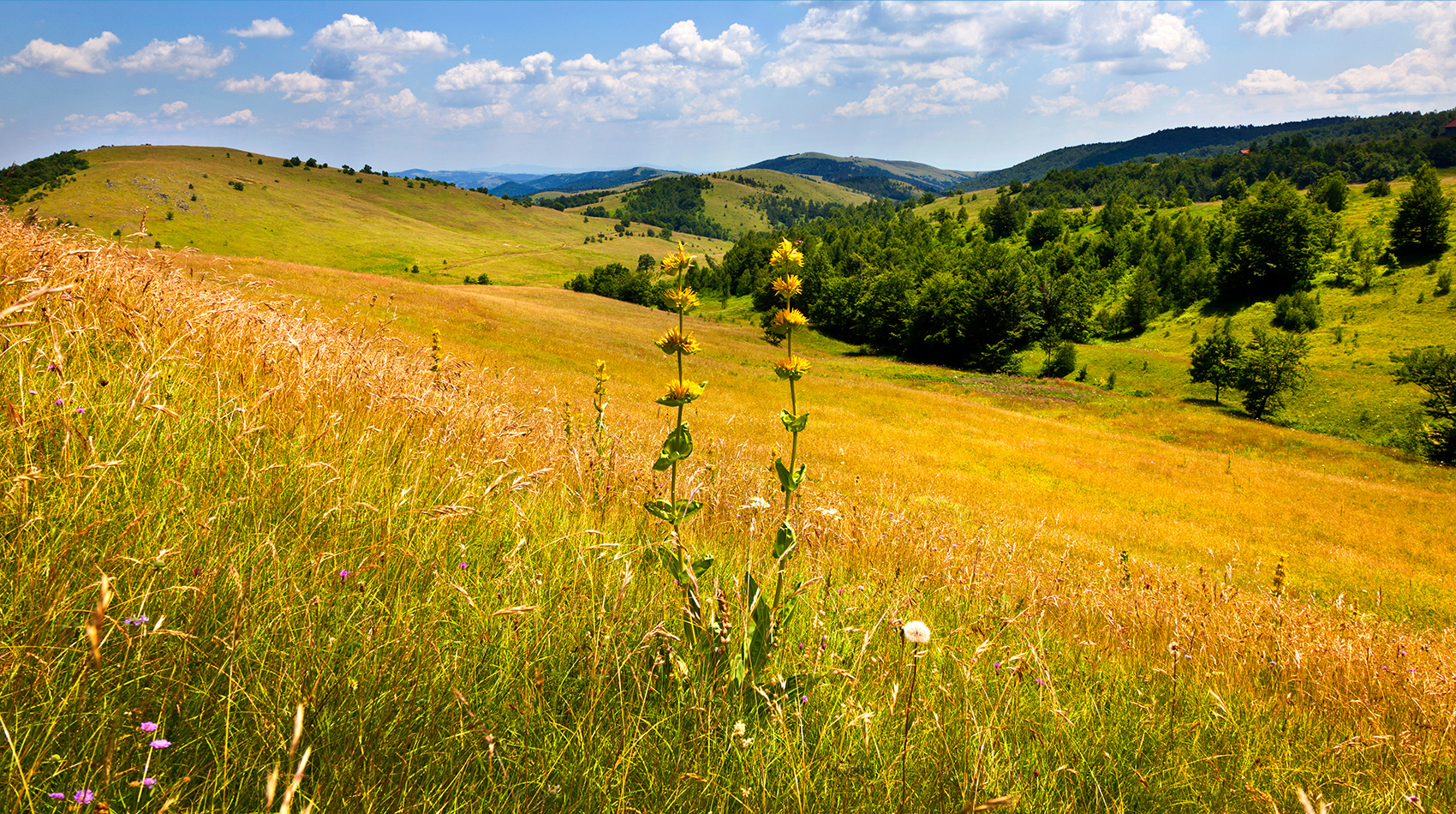 Name
The plateau was given the old Slavic name Divčibare or the girls'river in memory of the tragic death of a young girl. According to the legend, the young shepherdess accidentally drowned in a swollen river Crna Kamenica. Everyone in the area was shocked by this event, so symbolically these landscapes, by the Crna Kamenica River, began to be called "girls' ponds", which over time, slowly merged and became known as Divčibare. Despite this name, and the legend that accompanies it, Divčibare is not dangerous but a very gentle mountain.
History
Divčibare has a long history of spa tourism. The name itself is mentioned as far back in 1476. in the Turkish list of Smederevo Area. Significant information for the history of the spa is that after the Second Serbian Uprising, Prince Milos Obrenovic bought the whole plateau from his Turkish friend Deli-aga, with all the fertilizers and other masonry objects.. It is well known that Prince Milos frequently visited this region, visited the shepherds and controlled their work.. In the vicinity of the Lodges there was a source of cold mountain water, later called by the people Prince Milos's fountain. Based on observations of climate in a long period by the Climate Institute of Serbia, Belgrade in 1963. Divčibare was proclaimed the "Climatic Spa".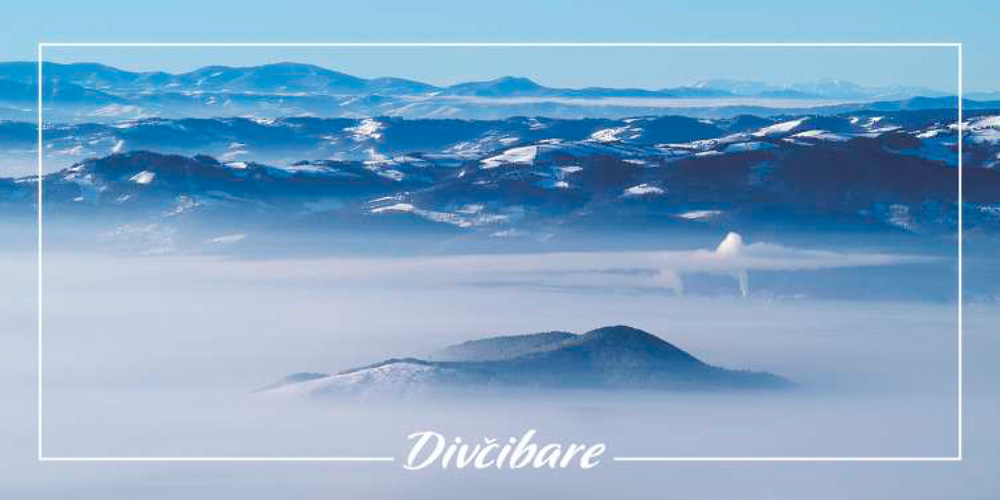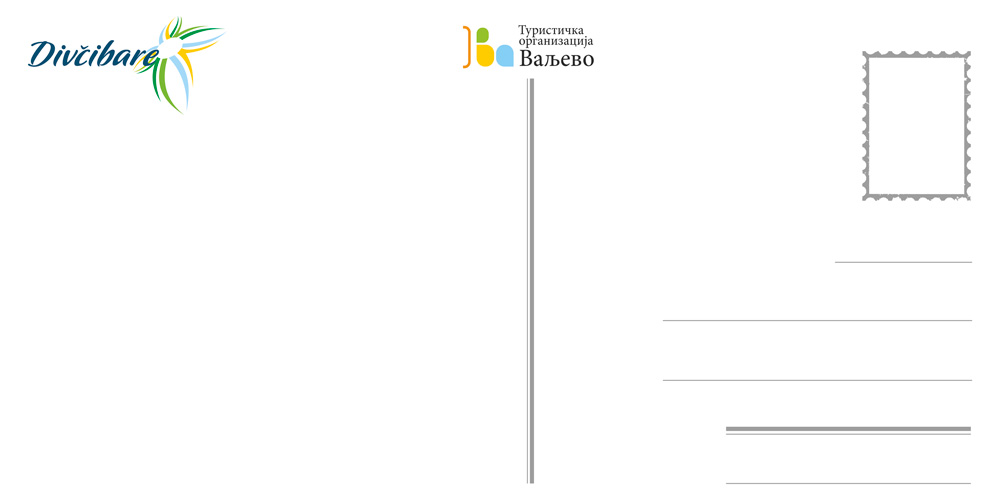 Rivers and streams.
Flora & Fauna
and Animal world
Rivers and streams
Divčibare area abounds with rivers, springs and streams belonging to the Kolubara and West Morava basins. Divčibare abounds with sources of rivers and streams, such as Bukovska River, Crna Reka, Kozlica, Krčmarska Reka, Manastirica and Paklenica, Bela and Crna Kamenica. Particularly interesting is the river Manastirica, which springs under the Kraljev Sto (1103 m) and which in its upper stream makes a very beautiful waterfall named Skakalo. The terrain on which this impressive 20m high waterfall is located is not accessible enough and is not on the map of Divčibare hiking trails. The waters of the Crne Reke flow over rocks that are almost black in color through the dark forest, so it is rightly called as iti is (Black River). A special attraction of this mountain river are waterfalls that are 5 - 10 meters high.
In addition to rivers and streams, the Divčibare area is also rich in many springs. The Zujan source is unusual because it is not found, like most springs in a ditch or under a rock but in a vast marsh meadow. In addition to this source, one should not forget the Hajduk Fountain at the height of Čubrica, as well as the Studenac spring. The water of this well is very cold, so it is very justifiably called like that (Bleak). Cold air flows from the crack from where the water comes from, so it is rightly assumed that there is an entire cave system behind the source that has not been tested so far.
Flora & Fauna
Divčibare is known for its meadows with beautiful soft grass and conifer forests. Coniferous forests are of the utmost importance, with the most common occurring white and black pine, fir, spruce, in a slightly smaller number of jungles and mountain pine. Of deciduous trees, the most significant are beech and birch trees, which form forests, either alone or in community with conifers.. The following species are represented in Divcibare: black and white ash, oak, cer, common hazel, jasper, maple. Divčibare are in flower most of the year. When the snow begins to melt in March, there is a jeremak, a sack, and saffron. In late April and early May, the most beautiful flower of the mountain appears - the daffodil. From the month of June, when the meadow grasses were full growth, Divcibare meadows represent a beautiful carpet, made of flowers of the most beautiful colors.. In this colorful of various flowers in the month of July occurs lincura, a medicinal plant, with many beautiful yellow flowers.. A special feature of the plateau is the high proportion of forest fruits used in human consumption: wild strawberries, wild raspberries and blackberries, blueberries and many types of edible mushrooms..
Animal world
The Malyan expanses, with many springs and running waters and considerable flora richness, provide very favorable conditions for the development of wildlife. Of the hairy game in Maljen is the most significant representative of the deer, which is abundant in the whole mountain, and especially in the parts around the river Manastirica, Krčmarska river, Crna river, Crna Kamenica and Bukovska river, and in nearby forested heights.. There are also a large number of rabbits in the game, which are affected by mountain conditions, as are squirrels.
Once upon a time there was a large number of griffon vultures in Maljen, to end up staying only in the gorge of the Black River, where it had its nests on inaccessible sides on the left bank of the river in the area of Ljuti Krš, Golupac and Crveni Breg. In addition to other birds that are abundant in Maljen, the more significant species include: large colorful woodpecker, rural woodpecker, kryoklyuk, lime and mountain glory, which is one of the canaries and stands out for its beauty. It is significant that mountain glory has only two habitats in our country, one of which is Divčibare.
The flowing waters of Maljen, which in most cases never dry up, provide quite good conditions for the development and reproduction of fish and other representatives of the living river world. Crayfish, maple, goldfish and crab are widely represented in the rivers that occur at Maljen. Groundhogs are highly prized for their juicy and delicious meat, very similar to trout meat.